GEIGER HARMSCO® Pre-Engineered Skid Mounted Systems
Pre-Engineered Skid Mounted Systems
Commercial / Industrial / Municipal
Make the best filters work better with pre-engineered skid systems by Geiger.
Geiger systems feature Harmsco® Hurricane® Swing Bolt housings for unsurpassed performance.
Improve reliability while reducing labor and installation costs Instant system price quotes Quick lead times Competitively priced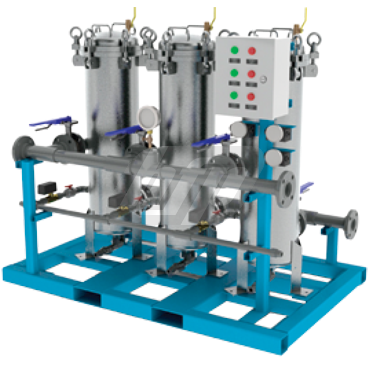 Features
Fabricated steel base
Isolation and check valves
Automatic timer controlled filter purge
Liquid filled stainless steel pressure gauges
Modular suction and discharge header piping
NEMA 4X control panel with filter service indicators
Differential pressure switches to monitor filter status

Custom Configurations Available
Applications
Municipal Drinking Water
Industrial Waste Water Treatment
Cooling Tower Filtration
Desalination Pre-filtration (coated option)
Surface Water Treatment Rule (SWTR) LT2
Reverse Osmosis Pre-filtration
Ground Water Remediation
Ground Water Under Direct Influence (GUDI)
Standard Configurations
Housings - HUR 90 HP, 1X170, 3X170
Cartridges - any Harmsco® cartridges
Configurations - Duplex, Triplex and Quad standard; custom configurations available.
Material - stainless steel, PVC and carbon steel header material
Harmsco® Filter Features
Patented Up-flow Design
Electro-polished finish - standard
Swing Bolt closure system
Four sizes for greater utility - one, three, five and eight cartridges
The industry's largest selection of cartridge options
Built to ASME design standards
Combination cyclone separator and cartridge filter in a single compact design
304 stainless steel housing and internal components - standard

Note: This publication is to be used as a guide. The data within has been obtained from many sources and is considered to be accurate. Harmsco does not assume liability for the accuracy and/or completeness of this data. Changes to the data can be made without notification. Temperature, Pressure, Flow Rates, Differential Pressures, Chemical Combinations and other unknown factors can affect performance in unknown ways. Limited Warranty: Harmsco warrants their products to be free of material and workmanship defects. Determination of suitability of Harmsco products for uses and applications contemplated by Buyer shall be the sole responsibility of Buyer. The end user/installer/buyer shall be liable for the product's performance and suitability regarding their specific intended applications. End users should perform their own tests to determine suitability for each application.