HBC Poly Coat Filter Housings
HBC Poly Coat Filter Housings
Universal Design
Multi-Round Cartridge Housings
Harmsco® HBC filter housings are designed with a universal bottom plate to accept 2-1/2" or 2-3/4" diameter cartridges with DOE (double open end), 222/Flat and 222/Fin end cap configurations.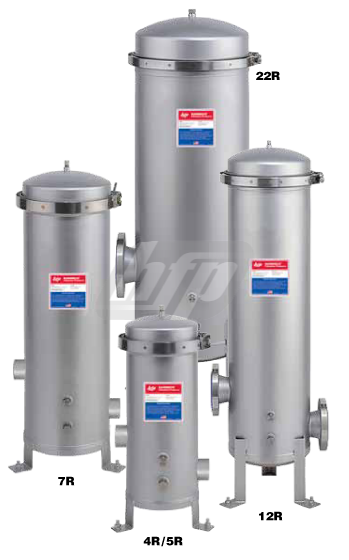 Features
304 stainless steel construction, standard
304 stainless steel cap/spring assemblies, standard
150 PSI (10.3 bar) pressure rating
Universal bottom seal cups to accept DOE, 222/Flat or 222/Fin style cartridges
Exterior poly coat finish, standard
Heavy duty legs included on all models Bottom drain provided
Vented lid
Two gauge ports - inlet and outlet side

Options:
316 stainless steel construction
Alternative O-ring material

Applications
Commercial Drinking Water
Cooling Tower Filtration
Industrial Waste Water Treatment
Reverse Osmosis Pre-filtration
Ground Water Remediation
Process Water
Utility Water
Well Water



Ordering Information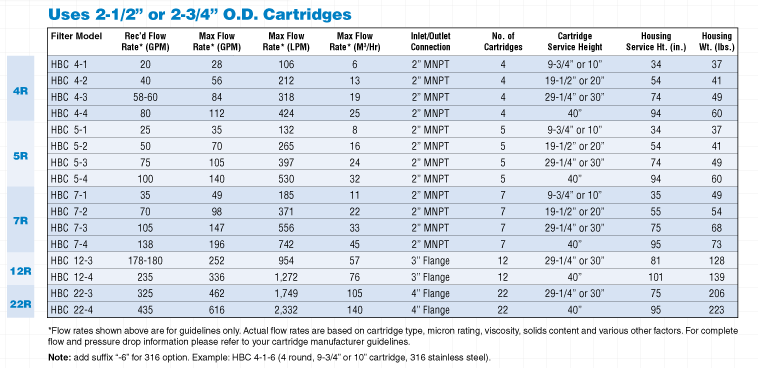 Filter Specifications
Finish - Poly Coat standard (exterior only)
Inlet/Outlet - 2" MNPT, 3" flange, 4" flange
Construction - 304 stainless steel standard, 316 optional
Closure - Band clamp closure, O-ring, Buna-N
Pressure - up to 150 PSI (10.3 bar) max
Temperature - up to 250°F (121°C); filter housing only

Note: This publication is to be used as a guide. The data within has been obtained from many sources and is considered to be accurate. Harmsco does not assume liability for the accuracy and/or completeness of this data. Changes to the data can be made without notification. Temperature, Pressure, Flow Rates, Differential Pressures, Chemical Combinations and other unknown factors can affect performance in unknown ways. Limited Warranty: Harmsco warrants their products to be free of material and workmanship defects. Determination of suitability of Harmsco products for uses and applications contemplated by Buyer shall be the sole responsibility of Buyer. The end user/installer/buyer shall be liable for the product's performance and suitability regarding their specific intended applications. End users should perform their own tests to determine suitability for each application.