TF All-Poly High Purity
TF All-Poly High Purity
Hydrophobic Membrane
Pleated Teflon® Membrane Cartridges
Harmsco® High Purity Pleated Cartridges are manufactured for use in most applications where absolute rated filtration is needed.
Long service life
High flow rates
Low pressure drop
High permeability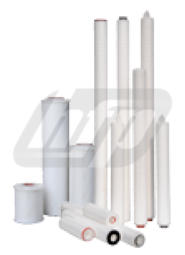 High efficiency for critical filtration applications
Pleated design for extended surface area
Polypropylene end cap, thermally welded to media, cage and core
FDA Listed Materials for potable water / liquid foods
USP Class VI - 121˚C (250˚F) for plastics
8.5 square feet of filtration media per 9-3/4" cartridge
Offered in multiple lengths and end cap configurations to fit in competitive filter housings
Sterile Air
Venting
Photographic Solutions
Reagent and Electronic Grade Chemicals
Prefiltration Prior To Membrane Filters
DI and RO Feedwater Prefiltration
Agressive Fluids
Process Water
Fine Chemicals
Plating Chemicals
Wastewater
Pharmaceuticals and Biologicals
Construction Materials
Filtration Media......................Teflon® Membrane
Support Media..............................Polypropylene
End Caps ...................................... Polypropylene
Center Core .................................. Polypropylene
Outer Support Cage .................... Polypropylene
O-rings / Gaskets ... .................Buna, Viton, EPDM, Silicone, Teflon® Encapsulated Viton

Toxicity
All polypropylene components meet the specifications for biological safety per USP Class VI: 250˚F (121˚C) for plastics.
Dimensions
Length: 10 to 40 inches (25.4 to 101.6 cm) nominal
Outside Diameter: 2.7 inches (7.0 cm) nominal

Media Surface Area
8.5 square feet per 9-3/4" length
Maximum Recommended Operating Conditions
Change Out.......Δ P 35 PSI;
Temperature........200°F (93°C)
FDA Listed Materials
Manufactured from materials which are listed for food contact applications in Title 21 of the U.S. Code of Federal Regulations.
Sanitization / Sterilization
Filtered Hot Water ...................176°F (80°C) for 30 minutes
Steam Sterilization ..............250°F (121°C) for 30 minutes, multiple cycles.
Chemicals: cartridges are chemically compatible with most chemicals and sanitizing agents.
Note: stainless steel insert option needed for all cartridges being hot water sanitized or steam
sterilized.



Note: This publication is to be used as a guide. The data within has been obtained from many sources and is considered to be accurate. Harmsco does not assume liability for the accuracy and/or completeness of this data. Changes to the data can be made without notification. Temperature, Pressure, Flow Rates, Differential Pressures, Chemical Combinations and other unknown factors can affect performance in unknown ways. Limited Warranty: Harmsco warrants their products to be free of material and workmanship defects. Determination of suitability of Harmsco products for uses and applications contemplated by Buyer shall be the sole responsibility of Buyer. The end user/installer/buyer shall be liable for the product's performance and suitability regarding their specific intended applications. End users should perform their own tests to determine suitability for each application.